GEODESIC DOME
---
Probably the most economical solution, which leaves large possibilities in the making.
Always the same comments on the subject:
For private use, deep in his garage, you can do what you want, but with the public it is another matter.
All the components must be classified fire-retardant. and we should not lock the walls, otherwise the dome is treated as a tent, which will lead to an homologation.
You can get addresses and advice from your fire Departement (see Safety section on this website)
That said, the major disadvantage of this solution is the time of assembly / disassembly, hardly compatible with a truly mobile solution. In this case, the inflatable dome is better but MUCH more expensive.
Some ideas with cardboard (obviously not fire-retardant! Only use it in private)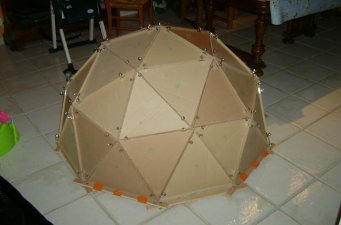 Cardboard geodesic dome
http://rickyspears.com/blog/2007/07/how-to-build-a-home-planetarium-with-cardboard/
http://rickyspears.com/blog/images/formulae-for-panelized-hemisphere-construction.pdf
http://www.cccoe.net/stars/5mdome.html
http://pagesperso-orange.fr/yves.lhoumeau/astronomie/diffusion/animation/planetarium/planetarium.htm
For pattern calculation:
http://www.desertdomes.com/
Another achievement in wood and textile, but could probably be using the right materials (for public safety rules): simple solution that uses Yves Lhoumeau in his garage as a test dome.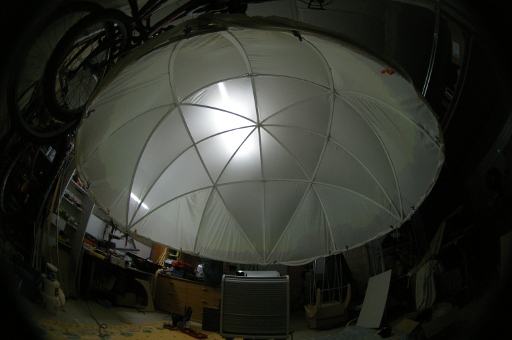 http://pagesperso-orange.fr/yves.lhoumeau/astronomie/diffusion/animation/planetarium/3m/page3mA.htm
Pattern:
http://archilibre.org/ateliers/domesimple/dome.html
Another dome
http://www.astrosurf.com/magnitude78/Stellarium4000/S4000_salle.htm
Many other domes
http://local.wasp.uwa.edu.au/~pbourke/exhibition/domeinstall/
http://www.worldwidetelescope.org/Docs/worldwidetelescopeplanetarium.html
Yves LHOUMEAU