WIIMOTE IN THE DOME
---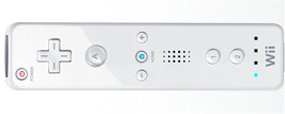 ---
INSTALLATION
KEYMAP
USE
TROUBLESHOOTINGS
---
INSTALLATION

Required equipment:
-wiimote
-bluetooth usb dongle or build-in bluetooth module on motherboard

For KDE4 users:

Download this this tar file, and read instructions. The PC must be connected on network and configured (for update)

-in a terminal untar the file
>tar -xf wii-install.tar

-lauch the script as root
>cd wiimote-install
>su
>sh wii-install-root.sh
>init 6

-the system will restart, enjoy !

MANUAL INSTALLATION

1) installation of components
a) usb dongle
urpmi kdebluetooth
b) wiimote support
urpmi cwiid

2) test the wiimote
# en root
modprobe uinput
service bluetooth start
wminput

3) keymap of wiimote
the definitions are in this file
/etc/cwiid/wminput/buttons
# help about buttons
http://abstrakraft.org/cwiid/browser/cwiid/trunk/wminput/README?rev=12
for finding mac adress
hidd --search

4) tips
for launch with particular mac adress
wminput and mac adress
ex: wminput 00:21:BD:15:6E:41
for automatic launch
add in /etc/modprobe.preload
uinput
add in /etc/rc.local
wminput -w

alternative of "rc.local"
add in this repertory ~/.kde4/Autostart
a file wiistart.sh containing the command
wminput -w (dont' forget to pass the file in executable mod with chmod +x)

5) lauch wminput in normal session mode (no root)
create the file in this repertory:/etc/udev/rules.d
name of file:
60.persistent-input.rules
write in this file:
KERNEL=="uinput", MODE="0666"
---
KEYMAP

standard file with automatic installation

Trigger: play /reprise
KEY A: pause
KEY + / - fast / slow
HOME : menu

direction arrows : navigation in menu
1 and 2: constellation drawing and constellation art
---
USE

The gyroscopic system of the wiimote shouldn't be used bcause of the difficulty to master the movement in this conditions. we propose to use it as a minimalistic but very ergonomic remote ! . Success guaranteed with young audiences !
---
TROUBLESHOOTINGS

Hard disk saturation by temporary files:
When the USB bluetooth dongle isn't plugged in and it uses the configuration "Automatic" as described. In 1 or 2 boots, it leads to a disk full at 100%!
In this case, boot in failsafe mode:
cd / tmp
rm -rf *
Then reboot normally (with the key bluetooth).
Morality: You must heve the bluetooth dongle connected permanently.

Yves LHOUMEAU