TRANSFORMING RECTANGULAR VIDEOS TO FISHEYE
---
The "ideal tool" seems to be DMProjector which is free in 1024x1024 format.
It is true that we lack 56 pixels in 1080x1080 but that is only 28 pixels at the bottom of the screen lost. For a small video (640x480), just think in 1024x1024 and fill the bottom with black.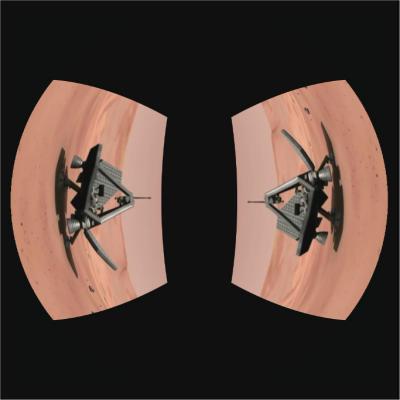 In unoriented rooms, it is advisable to duplicate the video (ideally "East" and "West") for more comfortable viewing. Tutorial
Toolbox (under windows)
Batch file for imagemagick
Exemple in video (27,1 Mo)


File for trying (2,2 Mo)


Batch file (1,2Ko)

---

mars2020-dmp.avi
Humour about Mars
missions in 2020
Fisheye format 1080x1080
Xvid codec
1min25sec

Made in 2006 by Nick Jacoubowski.
Distorted for fulldome and duplicated
for non oriented.
---
Lionel Ruiz & Yves Lhoumeau