DOMEMASTERS
---

Creating videos in native Fisheye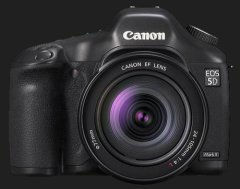 The tool we recommend is the Canon EOS 5D Mark III for two reasons:
The first is that with the addition of a target circle 8mm Fisheye obtained in full and that this circle allows the realization of Domemasters in 3744x3744 pixels²
There is the opportunity to provide content for big digital planetariums.
The second is that it can make movies in 1920x1088.
The only problem is that the 8mm Fisheye just covers the 24x36 format (3/2) and not (16/9) for which a portion of the image 3 / 2 is truncated at the top and bottom to fit that format more width.
Consequence: In 1080x1080, movies will only show a circle of 160° and if you stretch to get 180°, you'll loose some parts in north and south position as the full 180° would integrate 1280 pixels. If you use a WUXGA projector, you will get in native something good if you accept of loosing some 96 pixels at north and south position. Not too disturbing...

Raw Image
CANON EOS 5DMarkII
Sigma 8mm F/D=3,5
Exposure 30s - 6400ISO


Télescope de FOUCAULT
D=80cm (année 1864)
Vidéo 1920x1088
Sigma 8mm F/D=3,5
---

filedetoiles-lruiz.avi
Timelapse composited made in august 2009 in Chile by Lionel RUIZ.
Fisheye format 1200x1200
Xvid codec
0min14sec

It shows the circumpolar rotation of stars around the south pole from Ovalle in Chile (30°S).
---
Creating videos with raytracing tools
BLENDER:
For this, the latest version of the raytracing software BLENDER can manage things with specific add-ons (fisheye projection). As it's a free open source tool, it'll soon become the best in the world with an increasing number of users, especially in the world of planetarists.
To study some examples, I recommend using this blender source code: Clockwork Skies.
CINEMA 4D:
Even if it is expensive, I use C4D for the video renders that you'll be able to find on this website. There are 3 possibilities to produce domemasters with this tool: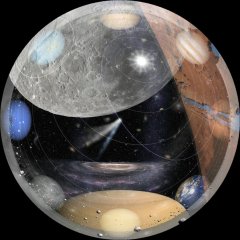 1) No fisheye render.
You can use a 5 cameras rig at 90° each covering a cube and stitch the resulting images using GLOM from Spitz. A free software you can download from their website:
http://extranet.spitzinc.com/download/downloadglom.aspx
2) Spherical mirror trick
Using a reflecting half sphere and looking at it from a camera can make the trick but not a real fisheye distorsion and I completely abandonned using it
http://greyscalegorilla.com/blog/2011/09/fisheye-camera-in-cinema-4d/
3) WFCam4D
This is what I use most of the time when I can, it's a cheap plugin from:
http://software.multimeios.pt/wfcam4d/
I know the guy who made it and I have talked with him many times during IPS meetings and other related events. The only drawback is that sometime it crashes if you are within many pyrocluster renders but most of the time it is ok. Also, if you use visible lights (that are rendered in a second calculation) it doesn't work. In these cases, I use the 1) option even if it is longer to adjust.

Lionel RUIZ